For many of us, the scariest thing about visiting a casino is the prospect of losing some of your hard-earned cash on any of the games. Casinos are meant to be fun places, full of ostentatious people in a search for thrills and a dash of hedonism. And yet, casino operators are always looking for that little bit of crossover branding to appeal to different demographics, and that includes horror fans.
At online casinos, in particular, software developers strive to make games that put more emphasis on entertainment. The winning and losing of money is part of the appeal, sure, but there are also exciting gameplay elements of modern casino games. That's notable in some of the modern horror slots that you can find at online casinos. Below, we list the five best:
Curse of the Werewolf Megaways (Pragmatic Play)
Not just one of the best horror-themed games to have arrived this year, but one of the best games released in 2020, Curse of the Werewolf strikes the right balance between fun and big prize potential. Fans of classic horror will no doubt know the classic 1961 Hammer horror, Curse of the Werewolf, and this is (very) loosely based on that. The main draw here is the Werewolf Strike feature. In a nutshell, special werewolf symbols attack the game's characters, turning them into werewolves for the duration of the feature. As you might imagine, werewolves can be ultra-lucrative. Lots of fun from the excellent slots developer, Pragmatic Play.
2. Creature from the Black Lagoon (NetEnt)
A top online operator like www.casino.com/nz will always stock NetEnt games; after all, it is regarded as one of the best developers around. NetEnt develops some funky horror games, and Creature from the Black Lagoon is arguably the pick of the bunch. Unlike Curse of the Werewolf, this one is an officially-branded game, meaning NetEnt worked with Universal Pictures to use licensed material their Creature of the Black Lagoon movie. It's a slick and polished game, with some huge prizes on offer.
3. Blood Suckers  (NetEnt)
Bloodsuckers isn't as polished as the other games on this list. In fact, it's probably a little bit dated. Nevertheless, players love it for two reasons. Firstly, it's got an insanely high RTP of 98% (RTP is a bit like house edge in reverse – the higher, the better). That RTP has given Blood Suckers legendary status among slots players. Secondly, it's a fun little game that looks like it was designed for an 8-bit computer console. It features a nice Bonus Game and an exciting Free Spins Feature – it's the classic horror slot.
4. A Dark Matter (Microgaming)
No era did the sense of macabre better than the Victorians, and that's what Microgaming has capitalised on here with a slot game that has hints of Robert Louis Stevenson's Strange Case of Dr Jeykll and Mr Hyde. We best let Microgaming's own blurb describe the game: "A growing sense of dread has fallen over the quaint English town of Stonehurst after a series of unexplained disappearances plague the once sleepy village. Might these events have something to do with the eerie Wraith Manor?" A lot of thought has gone into this game to create something original and fun, but it's also easy to play.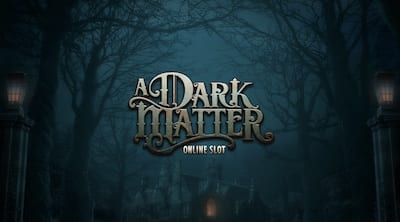 5. The Wish Master (NetEnt)
A final game from NetEnt, which is surely the finest purveyor of horror slot games. While the title suggests it is based on the so-bad-it's-good Wishmaster movie series, this game is very much done to its own style. It does feature a genie, and a creepy one at that, but that's all it shares with the movie series. Nevertheless, this game is packed with free spins, wilds, multipliers – all the elements that make a great slot game.
30 Insanely Silly, Brief Jokes To Textual content Your Buddies (Opens in a new browser tab)